Breadcrumb Trail Links
Local Business
'Others in town do bison burgers, some have boar burgers and some do elk burgers, but we are the ones who are doing all kinds of wild meat burgers with different and funny names.'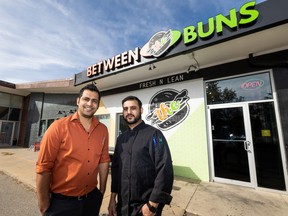 Kunal Makkar, left, and Raman Kumar are co-owners of Between the Buns, a new burger restaurant featuring wild meat on Early Drive. Photo taken in Saskatoon, SK on Thursday, September 22, 2022. Photo by Matt Smith /Saskatoon StarPhoenix
Article content
Businesses and non-profit organizations regularly open and move in Saskatoon. Today, the StarPhoenix talks to Kunal Makkar, who opened a burger restaurant recently called Between the Buns in Brevoort Park.
Advertisement 2
This advertisement has not loaded yet, but your article continues below.
Article content
Makkar and three business partners started a Between the Buns kitchen just for take out service downtown a few months ago, but after seeing some success the partners decided to open a restaurant featuring dine-in service.
By clicking on the sign up button you consent to receive the above newsletter from Postmedia Network Inc. You may unsubscribe any time by clicking on the unsubscribe link at the bottom of our emails. Postmedia Network Inc. | 365 Bloor Street East, Toronto, Ontario, M4W 3L4 | 416-383-2300
Thanks for signing up!
Article content
Between the Buns serves a wide variety of uniquely named and creatively designed wild meat burgers including bison, elk, lamb and boar, as well as other fare. Makkar and Mandeep Singh also own Hunger Cure, a restaurant in downtown Saskatoon that was featured last year in a New Faces, New Places column.
Q: What makes Between the Buns stand out from other burger restaurants?
A: It's a totally different concept. Others in town do bison burgers, some have boar burgers and some do elk burgers, but we are the ones who are doing all kinds of wild meat burgers with different and funny names. Our bison burger is called Mison Bison Complished and our elk burger is called Driving Crazy. Our lamb burger is called Lamborghini, and Oinker Delight is our boar burger.
Advertisement 3
This advertisement has not loaded yet, but your article continues below.
Article content
Q: What are your most popular burgers?
A: Our most popular is the Driving Crazy Burger — that's an elk burger with our own fresh and lean burger patties. It has spinach, pickled red onions, a little bit of sweetness with honey mustard, and spiciness with sriracha and it comes with Swiss cheese. You can pick any kind of bun. We have a large variety of buns, such as pretzel buns, potato buns, sesame buns, gluten-free buns, lettuce buns, and then we started a new bun called charcoal bun as well. The charcoal bun is made out of burned coconut, so it has a coconut flavour. It's really a soft bun and has sesame seeds.
Another popular item we started is our Gold Digger Burger, which has poached lobster, sautéed mushrooms and onion rings. It comes on our charcoal bun. It is called Gold Digger because it has 24 karat edible gold leaf on top of the bun.
Advertisement 4
This advertisement has not loaded yet, but your article continues below.
Article content
Q: What else is on your menu beyond the burgers?
A: We have pesto chicken quesadilla, fish and chips, chicken fingers. We have really fresh fruit smoothies and a bunch of milkshakes that go pretty good with the burgers. Fish and chips are pretty popular because they come with two pieces of cod filet, fries, coleslaw and is really good price for a humongous portion.
Q: What kind of restaurant-related experience have you and your three partners had?
A: Mandeep and I graduated from the Institute of Hotel Management in India. We've known each other since 2004. Kamal Singh is a brother of Mandeep. Raman Kumar has now joined with us as well. He had previously been working with us in Prince Albert as a cook. Now he is managing Between the Buns and is an official partner with us as well. All four partners grew up in India.
Advertisement 5
This advertisement has not loaded yet, but your article continues below.
Article content
I worked at Grainfields restaurant in Prince Albert when I came to Canada in 2009. Then I opened Original Joes in Prince Albert. I was the kitchen manager at Original Joes in Prince Albert and I gave it to Mandeep. Then we both quit our jobs and started opening more and more restaurants. Our team is really growing pretty fast and everybody's enjoying it.
Q: What are some of the other restaurants that you or your partners own?
A: I also own Hunger Cure in Saskatoon, and a restaurant in Commonwealth Stadium in Edmonton. Mandeep is the franchisor of Family Pizza all over Canada, and he owns Ricky's All Day Grill in Prince Albert, Quiznos in Prince Albert and Venice Pizza in Warman. We just took over the Dr. Java Coffee House in Prince Albert as well.
Advertisement 6
This advertisement has not loaded yet, but your article continues below.
Article content
Q: Is Between the Buns different from your Hunger Cure restaurant?
A: Yes, it's a totally different concept. Hunger Cure is more of a casual dining spot for mid-30s and mid-40s people who come in and enjoy wine. The burgers at Between the Buns are totally different than what we do at Hunger Cure right now.
Q: Do you have other Between the Buns locations?
A: We do have a virtual kitchen location where people can order from in Prince Albert, but it's not a physical location. There is also a virtual location in Warman and in Regina as well. We're planning in the next couple of years to open three or four more locations. We will start in Saskatchewan first.
This interview has been edited and condensed
Between the Buns
Owners: Kunal Makkar, Mandeep Singh, Kamal Singh, and Raman Kumar
Advertisement 7
This advertisement has not loaded yet, but your article continues below.
Article content
Address: 2917 Early Drive
Hours: Dine-in: Monday to Saturday, 11 a.m. to 10 p.m.; takeout and delivery: 11 a.m. to Midnight
Phone: 306-979-0111
Email: [email protected]
Website: btbrestaurants.com
Check: Facebook
Have you recently started or moved a new business or non-profit organization in Saskatoon? We want to hear your story. Please email [email protected]



Second location for Rayla's Bubble Tea Café in Lakewood




Abilities Connected helps newcomers with language barriers to find employment




A return to in-person workshops for people dealing with cancer at Look Good Feel Better




Young entrepreneur celebrates Métis heritage at His Bead Store
The news seems to be flying at us faster all the time. From COVID-19 updates to politics and crime and everything in between, it can be hard to keep up. With that in mind, the Saskatoon StarPhoenix has created an Afternoon Headlines newsletter that can be delivered daily to your inbox to help make sure you are up to date with the most vital news of the day. Click here to subscribe.
Share this article in your social network
Advertisement 1
This advertisement has not loaded yet, but your article continues below.
Comments
Postmedia is committed to maintaining a lively but civil forum for discussion and encourage all readers to share their views on our articles. Comments may take up to an hour for moderation before appearing on the site. We ask you to keep your comments relevant and respectful. We have enabled email notifications—you will now receive an email if you receive a reply to your comment, there is an update to a comment thread you follow or if a user you follow comments. Visit our Community Guidelines for more information and details on how to adjust your email settings.