Breadcrumb Trail Links
Saskatoon Hilltops
Local Sports
Football
The Saskatoon Hilltops are ready to return to the field in preparation for the 2022 Canadian Junior Football League season.
Author of the article:
Darren Zary  •  Saskatoon StarPhoenix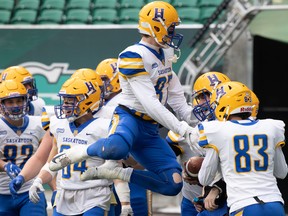 Saskatoon Hilltops receiver Lachlan Horsley (87) leaps into the air to celebrate with quarterback Damon Dutton (19) after Dutton ran the ball over the goal line for a touchdown during the Prairie Football Conference championship game against the Regina Thunder at Mosaic Stadium in Regina, Saskatchewan on Nov. 14, 2021. BRANDON HARDER/ Regina Leader-Post Photo by BRANDON HARDER /Regina Leader-Post
Article content
Their 2021 season cut short by a loss in the national semifinal, the Saskatoon Hilltops are ready to get back on the field after an extended off-season.
Article content
The Hilltops — who will open training camp Monday with physical testing and a pair of practices at Ron Atchison Field — are bound to come back a little hungrier, too.
It's the first time in years that they will enter a new season on a one-game losing 'skid.'
"We'd better be (hungrier)," said longtime Hilltops head coach Tom Sargeant. "The reality is that we're 0-and-1 and it's certainly not a good feeling. You just go through last season and, how it went, we certainly didn't play at the standards that we're used to playing at, so the reality is there."
The Hilltops will hold practices Monday, Tuesday and Wednesday before playing in the alumni game, which returns after a two-year absence, Thursday. Game-time is 7 p.m. at Ron Atchison Field.
"We're going to get that going again," noted Sargeant. "And then we get ready for Winnipeg."
The Toppers will open the season on Sunday, Aug. 14 against the visiting Winnipeg Rifles. Game time is 1 p.m. at SMF Field.
"I think we've solved some situations and we're very confident — way more confident going into this year than what we were last year," said Sargeant, whose Hilltops won six straight Canadian Junior Football League titles before being dethroned in 2021.
"Players have grown, gotten bigger, stronger, faster. I think there's going to be a real nice product on the field this year that's going to be hungry. Coaches are hungry, the players are hungry. We're ready to go."
On paper, Sargeant likes what he sees, starting with the team's offensive package.
Article content
"We've got a lot of skill, a lot of talent," he said. "I like our line of scrimmage. I like our front seven. They're going to be tough stopping the run. We sort of graded ourselves out last year and special teams is an area that we need to get better at. We feel we're headed in the right direction. We've got a new kicker coming in, Connor Green. We feel he's going to help to just sort of give us a real snap with special teams as a kicker.
"So we feel really good about that."
Green and running back Charles Sawi are the two main new additions.
"It's not that we lost a lot of players," noted Sargeant. "We were a pretty young team last year. Those guys are back this year, so we're pretty veteran in a lot of areas. We have four O-linemen in their fifth year, so that always makes you feel pretty good about things."
Sargeant is particularly pumped about the front seven of the defence.
"That front seven's going to be good, like, holy cow," he said, adding he feels really good about where they are at on the line of scrimmage.
"That's sort of what did us in last year. You go back to that Langley (Thunder) game. We did not excel on the line of scrimmage offensively. Third-and-one's and stuff, we weren't able to get that half yard or yard or whatever it was. Our quarterback got sacked three times.
"There's a lot of things that we've learned about ourselves that aren't acceptable and we need to get to work to change those things."
All in all, Sargeant is optimistic and excited to see how the season unfolds.
Article content
"We feel really good where we're at and everything sort of going the way it's going. Let's just get to work. Let's get into action and let's see if we're as good as we think we're going to be."



Setback in 2021 leads to comeback in 2022




Hilltops' newcomer Charles Sawi one to watch for in 2022
The news seems to be flying at us faster all the time. From COVID-19 updates to politics and crime and everything in between, it can be hard to keep up. With that in mind, the Saskatoon StarPhoenix has created an Afternoon Headlines newsletter that can be delivered daily to your inbox to help make sure you are up to date with the most vital news of the day. Click here to subscribe.