Breadcrumb Trail Links
Local News
Former city councillor says more administrative support is needed for local officials.
Publishing date:
Nov 03, 2022  •  57 minutes ago  •  3 minute read  •  Join the conversation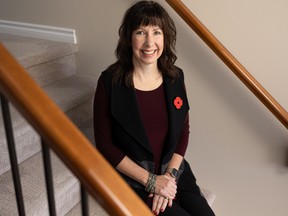 Former city councillor Ann Iwanchuk thinks it's time for elected officials to have full-time support staff. Saskatoon StarPhoenix
Article content
Compensation and working conditions for city councillors have been regular topics at city hall of late.
Advertisement 2
This advertisement has not loaded yet, but your article continues below.
Article content
Council this week debated and approved a new meeting schedule, and last month heard from an advisory commission that studies council members' pay and benefits.
By clicking on the sign up button you consent to receive the above newsletter from Postmedia Network Inc. You may unsubscribe any time by clicking on the unsubscribe link at the bottom of our emails. Postmedia Network Inc. | 365 Bloor Street East, Toronto, Ontario, M4W 3L4 | 416-383-2300
Thanks for signing up!
Article content
After a few years away from the job, former city councillor Ann Iwanchuk said it might not be time to raise council's pay, but it could be time to have councillors stop answering every email themselves.
"I guess I have a life now," she joked, when asked how her life has changed since she opted not to run again.
"What I've noticed is I'm able to balance work and family much better, and I don't, of course, have the number of phone calls and emails that I used to have to deal with on a daily basis."
She estimated she fielded about 100 emails a day during her time on council from 2011 to 2020. She said it wasn't uncommon to receive as many as 10 to 25 phone calls a day.

Advertisement 3
This advertisement has not loaded yet, but your article continues below.
Article content
She worries recent changes to council's meeting and public hearing times will make it harder for anyone with outside employment to seek local office, as council duties have increasingly crept into the traditional work day, she said.
She believes councilors should remain part-time employees, but with substantially more help than is currently available: two assistants, providing support to five councillors each, she said.
Iwanchuk suggested this would help them be more efficient; a lot of her time was spent triaging calls and emails to determine which ones she could handle and which were best referred elsewhere. Sometimes she had to talk people down to get at the root of their problem.
"There's a lot of sounding off, right?" Iwanchuk recalled. "You get a call from a constituent; they're angry, you need to diffuse that, and so that takes a lot of time."
Advertisement 4
This advertisement has not loaded yet, but your article continues below.
Article content
If nothing else, she said she thinks adding administrative support is likely more palatable for taxpayers than paying full-time rates for local politicians, who currently receive just under $70,000 a year in base salary.
The city's municipal review commission has called for an outside consultant to review the time councillors spend on the job, in part to assess whether more support staff could be warranted.
Derek Eisner, a lecturer on local governance and policy at the University of Saskatchewan, said it's hard for any council to find meeting times that provide a balance between the needs of the public, bureaucrats and elected officials.
In the end, Saskatoon's council acted in line with the powers it has under provincial law to set its own calendar, and is accountable to voters, he said.
Advertisement 5
This advertisement has not loaded yet, but your article continues below.
Article content
"You kind of have to trust they'll act for their constituents."
It's worth keeping in mind that politics is a job conducted in a "low-trust, high-blame environment," and that councillors can't be expected to take on infinite amounts of added stress, Eisner said.
It will likely always be difficult to find people with the time and flexibility to be on council, no matter the pay scale, he added.

"I think politics has always been a resource-dependent endeavour."



Q+A: Report calls for Saskatoon mayor's pay to hold steady, councillor workload to be reviewed




Saskatoon city council changes meeting times




Iwanchuk not seeking re-election, Sproule retiring as city clerk
The news seems to be flying at us faster all the time. From COVID-19 updates to politics and crime and everything in between, it can be hard to keep up. With that in mind, the Saskatoon StarPhoenix has created an Afternoon Headlines newsletter that can be delivered daily to your inbox to help make sure you are up to date with the most vital news of the day. Click here to subscribe.
Share this article in your social network
Advertisement 1
This advertisement has not loaded yet, but your article continues below.
Comments
Postmedia is committed to maintaining a lively but civil forum for discussion and encourage all readers to share their views on our articles. Comments may take up to an hour for moderation before appearing on the site. We ask you to keep your comments relevant and respectful. We have enabled email notifications—you will now receive an email if you receive a reply to your comment, there is an update to a comment thread you follow or if a user you follow comments. Visit our Community Guidelines for more information and details on how to adjust your email settings.