Breadcrumb Trail Links
Local News
After a certain hour, there's only one toilet open to the public in Pleasant Hill. Agencies say that needs to change.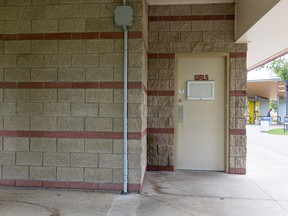 Public bathrooms like this one were closed for more than 100 days when the COVID-19 pandemic began. Advocates say it opened the public's eyes to the challenges the homeless have finding an available toilet. Photo by Michelle Berg /Saskatoon StarPhoenix
Article content
After 4 p.m., Kayla DeMong says she is in the charge of the only public toilet in all of Pleasant Hill.
Article content
The executive director of Prairie Harm Reduction is among the non-profit leaders calling for fast action to expand public washroom access in the city's core neighbourhoods, arguing the growing number of people on the street need places where they can do their business with safety and dignity.
"We are dealing with human faeces and pee in the alleyways," DeMong said. "When we had that giant flood a couple weeks ago, what ended up happening was a flood of human waste coming into our basement."
Saskatoon's public toilets — and, in this case, the lack of them — have come into the spotlight since the start of the COVID-19 pandemic.
The city has committed $100,000 to studying a need for public washroom access, and a further $50,000 for a "navigator" program to help vulnerable people who might use those facilities.
While most believe better toilet access is needed, Saskatoon Poverty Reduction Partnership coordinator Colleen Christopherson-Cote said there is less agreement on who should pay for it.
"Some folks don't have access to shelter or any other space and just need a drop-in space. There isn't anything," she said.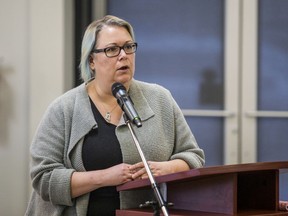 Colleen Christopherson-Cote said the city's poorest residents were hard-hit by the pandemic. Photo by Matt Smith /Saskatoon StarPhoenix
Christopherson-Cote said public toilet access has long been a worry for agencies serving homeless people. Then came COVID-19, when the city's public washrooms were closed for more than 100 days. Christopherson-Cote said the result was people using the only places they could: alleys, streets and sometimes city parks.
Article content
"It's a public safety issue. It's a public health issue. People need to dispose of their waste in a safe, appropriate matter," she said.
She was part of a committee struck to study access to public washrooms. It polled 300 residents online over a six-week period in the summer of 2021; about 94 per cent of respondents were in favour of a washroom model that was open at all hours of the day.
Ninety per cent said it should be either downtown or in the area between Idylwyld Drive and Avenue P between 19th Street West and 22nd Street West.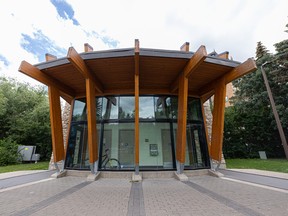 The City of Saskatoon is looking to pay "peer navigators" to connect with people using the washroom services at Kiwanis Park. Photo by Michelle Berg /Saskatoon StarPhoenix
But the question is: who runs it, and where?
DeMong said portable toilets won't suffice: they wouldn't work in frigid winter temperatures and wouldn't hold up to vandalism or other damage.
"The other big issue that was run into was: where would it go? And where was the money going to come from?" DeMong said.
Prairie Harm Reduction executive director Kayla DeMong outside PHR's building on 20th Street West. Photo by Michelle Berg /Saskatoon StarPhoenix
Most washrooms run by the City of Saskatoon are in other civic facilities, like libraries, but few of those buildings are in the area.
Christopherson-Cote said a non-profit could theoretically have a washroom for the public, but it would need to be funded to operate 24/7, which would require federal or provincial money.
"If we knew who the funder was, we would already have the funding in place," she said.
[email protected]
twitter.com/zakvescera



'Navigator' program to help vulnerable at Saskatoon public bathrooms




Council committee reviews proposal on downtown washrooms, Meewasin upgrades
The news seems to be flying at us faster all the time. From COVID-19 updates to politics and crime and everything in between, it can be hard to keep up. With that in mind, the Saskatoon StarPhoenix has created an Afternoon Headlines newsletter that can be delivered daily to your inbox to help make sure you are up to date with the most vital news of the day. Click here to subscribe.