Breadcrumb Trail Links
Local News
Ice cream truck owners have mixed reactions to the new city pilot project that allows food trucks to operate at residential parks this summer.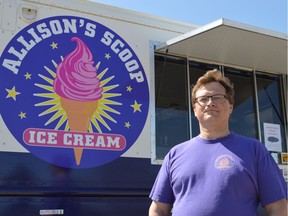 WARMAN – Allison's Scoop Ice Cream truck owner Louis Schoenherr sets up his truck at the Warman Fire Department in the summer as often as he can to sell treats to kids after school. (Saskatoon StarPhoenix/Matthew Olson) Photo by Matthew Olson, Saskatoon StarPhoenix /Saskatoon
Article content
Louis Schoenherr says a new city pilot project to allow food trucks to operate at Saskatoon parks this summer is "a joke."
Article content
Schoenherr, who runs the Martensville-based Allison's Scoop Ice Cream truck with his wife, said city parks aren't busy enough in the summer to be worth the time and cost of selling food there. 
City bylaws restrict food trucks from setting up and selling their products in residential areas, but the pilot project will allow the trucks — including ice cream vendors — to operate next to residential parks. 
Schoenherr said he would prefer it if Saskatoon adopted a model similar to Warman, where food trucks and "confectionary trucks" like his are considered to be different things. A recently proposed change to Warman's bylaw would allow confectionary trucks to operate in residential areas.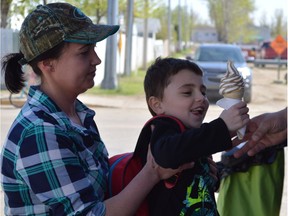 Raylene Poplar holds up her son Nolan to get a chocolate ice cream cone from Allison's Scoop Ice Cream truck after school on Thursday, May 11, 2017.  Photo by Matthew Olson, Saskatoon StarPhoenix /Saskatoon
Schoenherr had permission from the City of Warman to operate his ice cream truck in residential areas there last year.
"If we weren't able to go in residential in Warman, we would have had to leave," Schoenherr said. "It would not have been a profitable business anymore." 
Other ice cream truck operators say Saskatoon's pilot project will be a boon for their businesses.
Allen Malberg, owner of Homestead Ice Cream, said he thinks the project is "amazing" for food trucks — including Homestead's ice cream truck. He said he's eager to take part in the pilot project to reach more customers.
"I think that it's a great opportunity. We're grateful to have the city look at doing it," he said. 
Malberg, who is a member of the Saskatoon Food Truck Association, said it wouldn't be fair to other food truck businesses if ice cream trucks had special privileges to operate in residential areas. Phone apps such as Snack Map make it easy for customers to find food trucks wherever they park, he noted. 
Andrew Hildebrandt, director of community standards for the City of Saskatoon, said changing bylaws is not an immediate process — it requires consultation with communities and residents as well as businesses. 
"Maybe out of (the pilot project), we'll review it and get some feedback that might move toward something around having different food truck categories," Hildebrandt said. "But as it stands right now, we have the one."