Breadcrumb Trail Links
Local News
The property is a former Jehovah's Witness church at 415 Fairmont Drive. Nearby residents have expressed concern.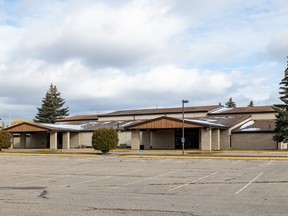 415 Fairmont Drive, formerly the Jehovah's Witness' Kingdom Hall, has been purchased by the Saskatchewan Housing Corporation, a provincial agency that partners with community organizations on low-income housing, emergency shelters and other projects. Photo by Matt Smith /Saskatoon StarPhoenix
Article content
The ink is barely dry on an agreement that shifts emergency shelter operations from Lighthouse Supported Living to the Saskatoon Tribal Council, but STC Chief Mark Arcand is already looking years into the future.
Advertisement 2
This advertisement has not loaded yet, but your article continues below.
Article content
Nearly three dozen emergency shelter spaces will soon be operated by STC, completing the transition away from provincially-funded spaces at the Lighthouse in downtown Saskatoon.
By clicking on the sign up button you consent to receive the above newsletter from Postmedia Network Inc. You may unsubscribe any time by clicking on the unsubscribe link at the bottom of our emails. Postmedia Network Inc. | 365 Bloor Street East, Toronto, Ontario, M4W 3L4 | 416-383-2300
Thanks for signing up!
Article content
Saskatchewan Housing Corporation (SHC) will provide a former church in the Fairhaven neighbourhood for STC to lease for its emergency wellness centre, the province and STC announced on Friday.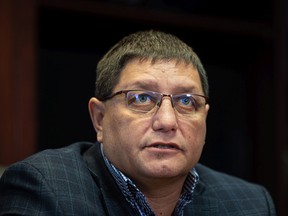 Saskatoon Tribal Ccouncil Chief Mark Arcand holds a press conference about a new partnership with the province of Saskatchewan. A new emergency wellness facility at 415 Fairmont Drive is expected to open in November. (Saskatoon StarPhoenix / Michelle Berg) Saskatoon StarPhoenix
The shelter will be funded by the provincial government, while STC will lease the building. That lease will expire March 31, 2023, but STC has already asked to continue the leasing and funding.
"The province wants to work with one-year contracts and that is fine by us," Arcand said on Friday. "We like to think on a five-year basis and we are not planning to shut this facility down any time soon."
Advertisement 3
This advertisement has not loaded yet, but your article continues below.
Article content
SHC recently purchased the property at 415 Fairmont Drive, a former Jehovah's Witness church which had been listed at just over $5.5 million. Earlier this week, Ward 3 Coun. David Kirton said he had received many messages from residents, expressing concern about a potential shelter. He said some residents seemed to fear lost property value and increased crime.
Arcand said he doesn't "apologize to the neighbourhood, because I feel like there is nothing to apologize for. I mean no disrespect with that. People need help and I call upon the neighbourhood to help us, too.
"If it were up to me, I would have a shelter in every ward of Saskatoon. We have proved that with proper staffing, we can produce results."
With Friday's announcement, Lighthouse Supported Living will no longer be responsible for providing any shelter spaces. In addition to the 31 spaces to be operated by STC, the remaining 30 of 61 spaces that had been offered at the Lighthouse were taken on by the Salvation Army earlier this month.
Advertisement 4
This advertisement has not loaded yet, but your article continues below.
Article content
In June, the province announced it would transition government-funded services from Lighthouse Supported Living to other community partners. The decision came after court documents were made public showing now-former executive director Don Windels improperly benefitted from personal loans taken from the charity. Lighthouse co-managing director Jerome Hepfner and another board member assumed Windels' duties earlier this year after he was removed from his position.
The Lighthouse has for years operated services for vulnerable people out of a high-rise tower at 304 Second Avenue South in downtown Saskatoon.
Arcand said STC "would love to continue using the old building as a cold-weather strategy. The winter is coming and if we have a facility like that, people will not have to seek shelter in the banks or other places."
Advertisement 5
This advertisement has not loaded yet, but your article continues below.
Article content
According to the province, STC and SHC "will work together to make the necessary improvements" to the building on Fairmont Drive "to ensure it supports the goals of the STC emergency wellness centre to meet the cultural, mental health, addictions and supportive housing needs" of people experiencing homelessness.
"Homelessness is a complex issue and requires multiple partners to come together," Social Services Minister and Minister Responsible for SHC Gene Makowsky said on Friday.
Arcand said there is room to grow and expand on the new property. The building is enclosed, which provides safety. There is plenty of green space, he said. He wants to place tipis and propane heaters in the summer to provide more space. The new centre also allows for separation of groups: men, women or families, or people with serious mental health or addiction issues.
Advertisement 6
This advertisement has not loaded yet, but your article continues below.
Article content
Since late last year, STC has operated 75 emergency shelter beds out of a wellness centre in a city-owned building on First Avenue North. When the wellness centre on Fairmont Drive opens on Nov. 15, people at the downtown shelter will be moved immediately to the new facility, Arcand said.
"We have families with children as young as three months old showing up," he added. "We see overdoses on a daily basis. Homelessness is not a downtown issue. It is a community issue and we need to solve it as a community."
Mayor Charlie Clark said recently that it's critical for the province to replace programming moved from the Lighthouse. He said it is "not up to the City of Saskatoon who delivers those programs, but it is very important that we do have those programs in place."
Advertisement 7
This advertisement has not loaded yet, but your article continues below.
Article content
Arcand said since STC started providing shelter, it has housed dozens of families and that police calls in the downtown facility have gone from more than 100 per month to around 40. STC also has a paramedic on site to help overdose victims.
"We are showing results, and I hope the community and the province will continue trusting us to provide shelter, addiction and housing services," he said.



Province, Lighthouse provide more detail on impending shelter closure




Lighthouse emergency shelter to close this week




'Fragile moment' as province says it will pull funding from Lighthouse




Court documents reveal further turmoil after Lighthouse executive director appealed his removal




Pub ban lifted, revealing investigation into personal loans for Lighthouse executive director Don Windels




Purchase of former church fuels speculation on new Saskatoon shelter
The news seems to be flying at us faster all the time. From COVID-19 updates to politics and crime and everything in between, it can be hard to keep up. With that in mind, the Saskatoon StarPhoenix has created an Afternoon Headlines newsletter that can be delivered daily to your inbox to help make sure you are up to date with the most vital news of the day. Click here to subscribe.
Share this article in your social network
Advertisement 1
This advertisement has not loaded yet, but your article continues below.
Comments
Postmedia is committed to maintaining a lively but civil forum for discussion and encourage all readers to share their views on our articles. Comments may take up to an hour for moderation before appearing on the site. We ask you to keep your comments relevant and respectful. We have enabled email notifications—you will now receive an email if you receive a reply to your comment, there is an update to a comment thread you follow or if a user you follow comments. Visit our Community Guidelines for more information and details on how to adjust your email settings.