Breadcrumb Trail Links
Columnists
As with so much of the planning for a new downtown arena, the move to private management appears to have been made long ago.
Author of the article:
Phil Tank  •  Saskatoon StarPhoenix
Published Jan 21, 2023  •  Last updated 47 minutes ago  •  3 minute read
Join the conversation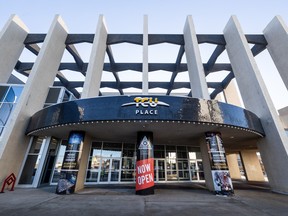 TCU Place in Saskatoon. Photo by Matt Smith /Saskatoon StarPhoenix
Article content
Mayor Charlie Clark called the decision to pursue private management for SaskTel Centre "significant" and stressed the need for transparency.
Advertisement 2
This advertisement has not loaded yet, but your article continues below.
Article content
Yet residents only heard about the plan a few days before city council voted unanimously to seek pitches from private companies to run Saskatoon's arena and perhaps also the TCU Place convention centre.
By clicking on the sign up button you consent to receive the above newsletter from Postmedia Network Inc. You may unsubscribe any time by clicking on the unsubscribe link at the bottom of our emails or any newsletter. Postmedia Network Inc. | 365 Bloor Street East, Toronto, Ontario, M4W 3L4 | 416-383-2300
Thanks for signing up!
Article content
Council heard from city administration on Wednesday that three companies have already expressed interest in running the downtown replacement arena, which we've been told is a long way away, but which seems to be closer than we thought every time we hear from city hall on the project.
Next month, we're expected to see the plans for the downtown entertainment district the arena is supposed to anchor, and later this year we can anticipate an updated cost estimate and a plan to pay for it.
Saskatoon taxpayers should brace for a price tag of $200 million or more, based on the $178 million estimate from five years ago. But that's without an upgrade to TCU Place, which seems to have become part of the overall district strategy without much discussion or debate.
Advertisement 3
This advertisement has not loaded yet, but your article continues below.
Article content
It will surprise few that the latest decision on this crucial project has been as transparent as a brick wall.
As explained to council by director of technical services Dan Willems, the city administration contracted an American consultant, Chicago-based Hunden Strategic Partners, last May to explore options for management of a new downtown arena and convention centre.
The cost of the consultant and the reason for the study are not included in the city hall report. But it seems pretty clear now that there is an overall agenda for the new facilities that has been mostly hidden from taxpayers.
Since city bureaucrats and politicians knew this was being considered, a question could have been included in the public engagement this fall. The company delivered its report in September.
Advertisement 4
This advertisement has not loaded yet, but your article continues below.
Article content
But that would have lent the engagement process a degree of legitimacy, asking people a clear question about what they thought of private management of a new downtown arena.
There's nothing wrong in theory with switching to private management, and the report by the consultants suggests this is increasingly the accepted model for such facilities.
But it comes at an awkward time as city hall tries to convince people of the need for a major project in the public interest that will require at least some taxpayer money.
The down side of private management seems obvious: the need to make money will trample the public interest every time.
The private Saskatoon Entertainment Group — owner of the Saskatoon Blades, Saskatchewan Rush and Saskatchewan Rattlers — runs the existing arena. But it's still governed by a board appointed by city council, like TCU Place and the Remai Modern art gallery.
Advertisement 5
This advertisement has not loaded yet, but your article continues below.
Article content
City hall employees still make the big decisions. The move to private management could mean the end of city hall influence over the new public facility.
But it's not like management of SaskTel Centre set new standards of greatness, even though it is financially self-sustaining.
In 2012, the new executive director of what was then called Credit Union Centre, Will Lofdahl, fired two executives for claiming $8,000 in expenses for a trip to an Arizona Cardinals football game.
The two sued successfully, saying they received proper approval for the trip, and were awarded damages in 2019 that topped half a million dollars.
Two different executives departed in 2017 under unknown circumstances with large payouts. Then Lofdahl himself left in 2021 to work with the group pursuing a new downtown arena in Regina for unknown reasons.
Advertisement 6
This advertisement has not loaded yet, but your article continues below.
Article content
Perhaps Lofdahl bolted because he knew his days as a highly paid city employee were numbered. Or perhaps he just whiffed the scent of changes that would not include him.
Regardless, the move to private management, like so much of this arena journey, including the site, appears to have been decided before the public even heard about it.
Phil Tank is the digital opinion editor at the Saskatoon StarPhoenix.
twitter.com/thinktankSK



Phil Tank: Saskatoon arena path manipulated by hiding $67M in costs




Phil Tank: Is Saskatoon's downtown arena decision heading where the puck is going?
Want to know how we decide what to cover and how editorial decisions are made at the Saskatoon StarPhoenix and Regina Leader-Post? Get the weekly Letter From the Editor newsletter from the Editor in Chief Russell Wangersky and join the discussion on what goes into covering news and delivering commentary, both in print and online. Click here to subscribe.
Share this article in your social network
Advertisement 1
This advertisement has not loaded yet, but your article continues below.
Comments
Postmedia is committed to maintaining a lively but civil forum for discussion and encourage all readers to share their views on our articles. Comments may take up to an hour for moderation before appearing on the site. We ask you to keep your comments relevant and respectful. We have enabled email notifications—you will now receive an email if you receive a reply to your comment, there is an update to a comment thread you follow or if a user you follow comments. Visit our Community Guidelines for more information and details on how to adjust your email settings.