Breadcrumb Trail Links
Sports
Local Sports
Football
The University of Saskatchewan Huskies edged the visiting University of Regina Rams 23-20 in Canada West football on Saturday afternoon.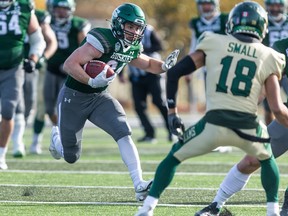 University of Saskatchewan Huskies running back Ryker Frank, who is from Regina, had a big game in Saturday's 23-20 victory over the visiting University of Regina Rams. Photo by Matt Smith /Saskatoon StarPhoenix
Article content
Mark McConkey's University of Regina Rams stood on the Griffiths Stadium turf Saturday as the bleachers emptied, and they talked about getting back.
Advertisement 2
This advertisement has not loaded yet, but your article continues below.
Article content
The Rams lost 23-20 to the unbeaten Huskies after a spirited comeback attempt fell short. Two games remain in the regular season, and then playoffs, and McConkey — the Rams' head coach — knows his team's post-season hopes very much run through Griffiths … if they can get there.
Regina Leader Post Headline News
By clicking on the sign up button you consent to receive the above newsletter from Postmedia Network Inc. You may unsubscribe any time by clicking on the unsubscribe link at the bottom of our emails. Postmedia Network Inc. | 365 Bloor Street East, Toronto, Ontario, M4W 3L4 | 416-383-2300
Thanks for signing up!
Article content
"That's what I just told our guys. If you want to win the Hardy Cup, you've got to come win here," McConkey said. "I told the guys we'll be back and ready to go, and we've just got to play better if we want to win that game."
The Huskies are 6-0, ranked second in the nation, and Saturday's victory clinched home-field advantage throughout the Canada West playoffs. The Rams are 4-2, and ranked No. 8. Both losses came against the Huskies — the first, an 11-10 setback on Sept. 17.
Advertisement 3
This advertisement has not loaded yet, but your article continues below.
Article content
So they've lost two games by a total of four points, and neither team is overly thrilled with that.
"Yeah, we won," Huskies head coach Scott Flory said. "I know the situation, and playoffs and clinching and all that kind of stuff. But at the end, we didn't finish the game the way we wanted to and the way we should have. I don't think we collectively played to our standard, start to finish. Yes, we won and we're happy, but we know we've got a lot of work to do."
Saskatchewan led 23-12 going into the last five minutes, with the Rams scrimmaging from their own 17 into a stiff wind. Regina staged a 16-play, 93-yard drive, capped by a one-yard run from quarterback Noah Pelletier with 1:01 on the clock. Pelletier then ran into the end zone on a two-point convert, putting the Rams down three with a minute to play.
Advertisement 4
This advertisement has not loaded yet, but your article continues below.
Article content
Regina's Jaxon Ford outleaped everybody and came down with the onside kick at the Saskatchewan 46, giving the Rams one last chance to score.
The rally ended immediately, when Huskies linebacker John Stoll intercepted Pelletier, and after a couple of first-down runs from Ted Kubongo, Saskatchewan ran out the clock.
"In those situations, I'd rather be going down, trying to get a field goal, doing hurry-up offence, things like that," Regina-born Saskatchewan quarterback Mason Nyhus said of having to watch those last few minutes from the sideline. "That's the nature of being a quarterback. But obviously, I trust our defence to make stops. When we needed it, we got that pick and they iced the game."
Nyhus completed 20 of 30 passes for 297 yards, one touchdown and one interception. Huskies tailback Ryker Frank, formerly of the LeBoldus Golden Suns, ran 18 times for 88 yards and a touchdown, and he also caught eight balls for 132 yards.
Advertisement 5
This advertisement has not loaded yet, but your article continues below.
Article content
Pelletier hit 17 of 35 passes for 147 yards and three interceptions against the well-coached Huskies.
"They do things right," McConkey said. "They're fundamentally solid. And we're right there — we just didn't play well enough to win that game. We didn't deserve to win the game. Even if we somehow came back and won, our offence didn't play well. The defence played good, but there's areas for them to improve, as well.
"We've got to go back, reset and come back here for playoffs."
The Huskies got a 23-yard touchdown catch from Kody Gutek, a 20-yard run from Frank and field goals of 20, 18 and 37 yards from David Solie. Solie's 32-yard field goal with two seconds left was the difference during the teams' previous meeting.
Advertisement 6
This advertisement has not loaded yet, but your article continues below.
Article content
On Saturday, Regina got a one-yard TD run from Christian Katende, the one-yard run from Pelletier, and a 44-yard field goal from Aldo Galvan.
"If you ask any guy in that locker room, we're not satisfied," said cornerback Katley Joseph, who recorded one of the Huskies' three interceptions along with five tackles. "Yes, we're 6-0, but we can still lose at any point. We've got to stay level-headed.
"We've got to stay grounded, and keep having that same Dog mentality."
twitter.com/kmitchsp
The sports world is ever-changing, as are the times. Supplement your steady diet of sports coverage by subscribing to the Regina Leader-Post's 306 Sports Fix newsletter. Each week, sports editor Rob Vanstone will provide additional commentary on the Roughriders, Pats and other teams/sports of interest, along with a peek behind the curtain. Click here to subscribe.



Mason Nyhus shines on and off field with U of S Huskies




U of R Rams improve to 4-1; clinch playoff berth
Share this article in your social network
Advertisement 1
This advertisement has not loaded yet, but your article continues below.
Comments
Postmedia is committed to maintaining a lively but civil forum for discussion and encourage all readers to share their views on our articles. Comments may take up to an hour for moderation before appearing on the site. We ask you to keep your comments relevant and respectful. We have enabled email notifications—you will now receive an email if you receive a reply to your comment, there is an update to a comment thread you follow or if a user you follow comments. Visit our Community Guidelines for more information and details on how to adjust your email settings.