Breadcrumb Trail Links
Sports
Football
The Prairie Football Conference's most-heated rivalry resumes Saturday when the Regina Thunder visits Saskatoon to play the Hilltops.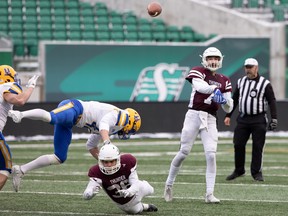 Regina Thunder quarterback Carter Shewchuk, shown Nov. 14 during the PFC final against the Saskatoon Hilltops at Mosaic Stadium, looks forward to Saturday's road game against the provincial arch-rivals. Photo by Brandon Harder /Regina Leader-Post
Article content
Play-calls and catcalls are part of the routine when the Regina Thunder visits Saskatoon.
Advertisement 2
This advertisement has not loaded yet, but your article continues below.
Article content
Carter Shewchuk wouldn't have it any other way.
Regina Leader Post Headline News
By clicking on the sign up button you consent to receive the above newsletter from Postmedia Network Inc. You may unsubscribe any time by clicking on the unsubscribe link at the bottom of our emails. Postmedia Network Inc. | 365 Bloor Street East, Toronto, Ontario, M4W 3L4 | 416-383-2300
Thanks for signing up!
Article content
"Playing there is awesome," said the Thunder's quarterback, looking ahead to Saturday's Prairie Football Conference showdown with the arch-rival Saskatoon Hilltops at SMF Field.
"It's like playing at Leibel Field, in a sense. It's so loud, and the teams' fans sit on opposite sides. When you're close to their sideline, you can hear their fans yelling at you and chirping at you.
"It's one of my favourite games of the year and I'm excited about it."
Some of the excitement stems from the fact that the Thunder has a 3-0 record and occupies top spot in the conference. Saskatoon, which has won the last seven PFC championships, is 2-1 after losing 19-16 to the host Winnipeg Rifles on Aug. 28.
Advertisement 3
This advertisement has not loaded yet, but your article continues below.
Article content
Saskatoon lost only twice last season — with Regina winning both times — before avenging those defeats with a 29-9 victory at Mosaic Stadium in the league final.
With that in mind, both teams have a score to settle. The Hilltops will be looking to atone for the loss in Winnipeg while the Thunder aspires to exact a measure of revenge as a result of last year's championship game.
That finale has served as fuel for the Thunder throughout the off-season and into the 2022 campaign.
Shewchuk has been a key part of the robust start, having thrown for 10 touchdowns over the first three games. He has exceeded 300 passing yards in each of those contests.
"I don't spend a lot of time looking at the stats," he said. "I'm not really into personal things. I just care about winning and being 3-and-0.
Advertisement 4
This advertisement has not loaded yet, but your article continues below.
Article content
"I just enjoy seeing the players who are so dominant perform the way they have been on offence."
Ryland Leichert, for example, has rushed for 379 yards over the Thunder's first three games. He is just 13 yards behind the league's leading ground-gainer, Saskatoon's Boston Davidsen.
Regina's Sadik Sadik is fifth in the league in rushing yards, with 156. He is averaging 7.8 yards per carry.
Yardage-wise, the Thunder boasts three of the league's five top receivers — Isaac Foord (whose 290 yards place him second), Isaiah Woodley (third, 279) and Rylan Sokul (fifth, 205).
Shewchuk is quick to compliment all of the aforementioned players, along with the Thunder's offensive linemen.
"We're very, very, very confident in the team we have this year," he said.
Advertisement 5
This advertisement has not loaded yet, but your article continues below.
Article content
The Thunder and Hilltops are preparing for back-to-back Saturday meetings. Part 2 is set for Sept. 17, 2 p.m., at Mosaic Stadium.
twitter.com/robvanstone
The sports world is ever-changing, as are the times. Supplement your steady diet of sports coverage by subscribing to the Regina Leader-Post's 306 Sports Fix newsletter. Each week, sports editor Rob Vanstone will provide additional commentary on the Roughriders, Pats and other teams/sports of interest, along with a peek behind the curtain. Click here to subscribe.



Carter Shewchuk throws five TD passes for first-place Thunder




Carter Shewchuk treasures 'family' time with Regina Thunder
Share this article in your social network
Advertisement 1
This advertisement has not loaded yet, but your article continues below.
Comments
Postmedia is committed to maintaining a lively but civil forum for discussion and encourage all readers to share their views on our articles. Comments may take up to an hour for moderation before appearing on the site. We ask you to keep your comments relevant and respectful. We have enabled email notifications—you will now receive an email if you receive a reply to your comment, there is an update to a comment thread you follow or if a user you follow comments. Visit our Community Guidelines for more information and details on how to adjust your email settings.