Remote Site Catering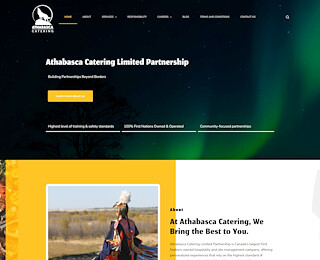 At Athabasca Catering, we take pride in being Canada's largest First Nations-owned hospitality and site management company. Our reputation has been built on a commitment to excellence, personalized experiences, and maintaining the highest standards of safety and quality. One of the areas where we excel is in our Remote Site Catering services. But what does this involve, and why is it important? Let's delve into the details.
The Importance of Quality Catering in Remote Locations:
Remote locations often pose unique challenges, particularly when it comes to providing quality meals. Workers in these environments require nutritious food to keep their energy levels high and maintain their overall health. However, the logistical challenges involved in delivering fresh, high-quality meals to remote locations can be daunting.
This is where Athabasca Catering comes in. Our team is trained to navigate these challenges efficiently, ensuring that despite the remote location, every individual receives the nourishment they need to stay productive and healthy.
Bespoke Culinary Experiences:
The core of Athabasca Catering's approach to remote site catering is the creation of bespoke culinary experiences. We understand that food is not just a basic necessity – it's a source of comfort, particularly in remote settings. Our culinary team designs menus that cater to various dietary requirements, personal preferences, and cultural backgrounds.
Our culinary offerings include:
A wide selection of nutritious meals, prepared fresh each day
Accommodation for dietary restrictions and allergies
Cultural food offerings that respect the diverse backgrounds of your team
Special occasion catering for events and celebrations
Safety and Quality – Our Core Commitments:
In every aspect of our business, we uphold the highest standards of safety and quality. In our catering services, this commitment translates into stringent food safety protocols and the use of quality ingredients. Our kitchen and dining facilities are maintained to exceed health and safety regulations, and our team is regularly trained in food safety procedures.
5 Reasons to Choose Us for Remote Site Catering
Unparalleled Expertise and Experience: As Canada's largest First Nations-owned hospitality and site management company, we have honed our skills over many years of experience. We understand the unique challenges associated with remote site catering and are equipped to handle them efficiently.
Comprehensive Health and Safety Protocols: We prioritize the safety and well-being of our clients. Our team is rigorously trained in all aspects of food safety and sanitation. We maintain and exceed all necessary health and safety standards to ensure that your team is well cared for.
Personalized Menu Offerings: Our culinary team creates diverse menu offerings tailored to suit individual dietary requirements, preferences, and cultural backgrounds. This focus on personalization ensures that everyone on your team will enjoy meals they love, even in a remote location.
Commitment to Quality: We source quality ingredients and adhere to strict food preparation protocols. This commitment to quality is reflected in the freshness and flavour of our meals, contributing to the overall well-being and satisfaction of your team.
Community and Economic Commitment: As a First Nations-owned company, we strive to create positive influences and community empowerment through our business practices. Choosing us as your remote site catering provider supports this mission and contributes to a more inclusive and sustainable economy.
Contact Us for Remote Site Catering
Remote site catering is about more than just providing meals. It's about enhancing the overall experience of workers at remote locations, making them feel valued and cared for. At Athabasca Catering, we're proud to provide remote site catering services that not only meet the basic needs of our clients but also contribute positively to their experience in remote environments. With us, you can expect excellent service, quality food, and a commitment to safety that is second to none.