Breadcrumb Trail Links
Local News
Coming up Monday: Council reviews rules for responding to claims against one of its own, and looks further at hiring more support staff.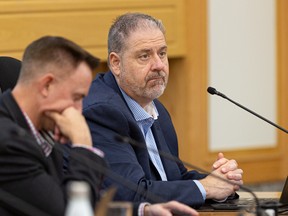 Saskatoon Coun. Randy Donauer listens during a city council committee meeting on Oct. 24, 2022. Photo by Michelle Berg /Saskatoon StarPhoenix
Article content
City council's governance and priorities committee meets on Monday. It's made up of all councillors and the mayor, and is a forum for handling issues regarding the way city council operates.
Advertisement 2
This advertisement has not loaded yet, but your article continues below.
Article content
This month, the committee will receive a report on disciplinary procedures for councillors in light of public allegations made against Ward 5 Coun. Randy Donauer, and review a proposal to have a consultant study councillors' workloads, with an eye to potentially hiring more support staff.
By clicking on the sign up button you consent to receive the above newsletter from Postmedia Network Inc. You may unsubscribe any time by clicking on the unsubscribe link at the bottom of our emails. Postmedia Network Inc. | 365 Bloor Street East, Toronto, Ontario, M4W 3L4 | 416-383-2300
Thanks for signing up!
Article content
COUNCIL RULES
Unless the legal system, the provincial government or an independent integrity commissioner steps in, there appears to be no path for council to act against Donauer.
Former students of what's now called Legacy Christian Academy have accused Donauer of physical assault, stemming from incidents alleged to have occurred in the early 2000s, when he was a volunteer official with the school's affiliated church.
Advertisement 3
This advertisement has not loaded yet, but your article continues below.
Article content
Donauer has denied any wrongdoing, and the allegations against him remain untested in court.
Public accusations from former students have put Legacy and the church at the centre of a class-action lawsuit, various criminal complaints  — all as yet untested in court — and much public discussion around curriculum and disciplinary practices at Saskatchewan's qualified independent schools, which receive provincial funding.
Mayor Charlie Clark last month made a motion asking for a report on the laws and policies governing councillors. He said at the time that he was doing this in response to communications from the public asking about potential discipline against Donauer in light of the allegations.
The report by city solicitor Cindy Yelland spells out that a councillor can only be removed from office if convicted of a criminal offence carrying a prison term of five years or more, or for offences under provincial law related to misconduct while in office and campaign and conflict-of-interest disclosures.
Advertisement 4
This advertisement has not loaded yet, but your article continues below.
Article content
The province also has broad powers under the Cities Act to remove municipal officials in the public interest, or in response to an audit or investigation.
Councillors are subject to a code of conduct, which is overseen by an independent integrity commissioner, who can respond to complaints by recommending to council that it discipline members for breaches.
Discipline under the code can include ordering a councillor to make a public apology, or removal from boards and committees, but does not include any provision for removing an official from office.
Yelland's report notes the integrity commissioner is required to refer complaints that could be more appropriately handled by a higher body, such as potential criminal matters or breaches of the Cities Act.
Advertisement 5
This advertisement has not loaded yet, but your article continues below.
Article content
COUNCILLOR WORKLOADS
City staff are recommending that an outside consultant study how much time councillors put into their duties, to see if they need more support.
The committee heard earlier this year from the municipal review commission, an advisory body that gives council recommendations on setting pay and benefits. The commission advised keeping the mayor and councillors' pay at current rates, but said it might be time to assess the hours councillors put in, and whether they have enough supports.
A response from the city administration agrees with the commission, and suggests hiring a human resources consulting firm or similar organization to do the work.
Currently, 10 councillors share two staff members, who are to assist only with administrative matters, not constituency relations or campaign activity. Councillors each also get about $10,000 in an allowance meant to help defray costs of maintaining communication with constituents, and there is a program enabling staff from relevant city departments to help councillors find and relay information in response to resident questions.
Advertisement 6
This advertisement has not loaded yet, but your article continues below.
Article content



Saskatoon council approves seeking rules on claims against Donauer




Calls made for Saskatoon councillor's resignation, end of tax breaks over allegations about Christian school




Former Christian school students file complaints against Saskatoon city councillor
The news seems to be flying at us faster all the time. From COVID-19 updates to politics and crime and everything in between, it can be hard to keep up. With that in mind, the Saskatoon StarPhoenix has created an Afternoon Headlines newsletter that can be delivered daily to your inbox to help make sure you are up to date with the most vital news of the day. Click here to subscribe.
Share this article in your social network
Advertisement 1
This advertisement has not loaded yet, but your article continues below.
Comments
Postmedia is committed to maintaining a lively but civil forum for discussion and encourage all readers to share their views on our articles. Comments may take up to an hour for moderation before appearing on the site. We ask you to keep your comments relevant and respectful. We have enabled email notifications—you will now receive an email if you receive a reply to your comment, there is an update to a comment thread you follow or if a user you follow comments. Visit our Community Guidelines for more information and details on how to adjust your email settings.