Breadcrumb Trail Links
Local News
Crime
Saskatoon police have laid 46 charges for assaults on officers so far, including four charges involving weapons and two aggravated assaults.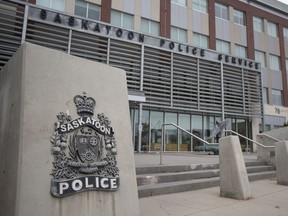 The Saskatoon Police Service headquarters building at 76 25th Street East. Photo by Kayle Neis /Regina Leader-Post
Article content
Saskatoon police have laid 46 charges for assaults on officers so far in 2022.
Article content
They include four charges involving weapons and two charges of aggravated assault against officers.
In 2021, police laid 97 charges of assaulting officers — a decrease from the 116 laid in 2020. Fourteen of the 2021 charges and 16 of the 2020 charges involved assaults with weapons. No aggravated assaults against a police officer were recorded in either of the two years.
Despite training and measures taken to provide specialized equipment and additional staff, tactics officers use, such as de-escalation, can be ineffective, police chief Troy Cooper said in a prepared statement.
"Increasingly our officers are dealing with people who are in psychosis due to drug addiction or who are desperate to avoid custody and are acting aggressively. The result can mean injury to both our officers and the subject involved. The environment in which we police is changing," Cooper wrote.
Police recently presented their annual use of force report to the Saskatoon board of police commissioners, which showed declines in the numbers of injuries to both officers and accused persons, year-over-year since 2019. In 2021, 18 officers and 93 suspects were reported injured, with one officer and 25 suspects requiring hospitalization.
It also showed police reported officers used force 310 times, and officers attended 79,121 calls for service.
Chris Rhodes, president of the union that represents city police officers, the Saskatoon Police Association, said despite regular use of de-escalation, assaults "continue to threaten the safety of police members as well as our community."
Article content
Rhodes pointed to use of illicit drugs and challenges around mental health in the community as some of the societal issues observed among people involved in assaults against officers.
"These and other factors lead people to disregard compliance and become assaultive," he said.
The union provided a photo of an officer's duty belt that snapped in half during a May 14 incident at an apartment building in the 500 block of 20th Street West.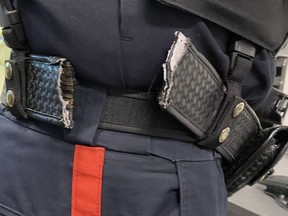 The Saskatoon Police Association provided this photo of an officer's duty belt, which was broken during an incident May 14. jpg
Police allege a man began to pull at an officer's belt during a struggle at the bottom of a stairway, after the man and two officers tumbled down the stairs, according to a media release issued on May 16. Two officers were injured, police said.
The man pulled equipment from the belt, police said in the release. He was taken into custody and faces several charges, including two counts of assaulting a police officer and one count of disarming a police officer.



Saskatoon police use of force incidents rose, injuries to suspects fell in 2021




Two officers injured after scuffle with suspect: police
Want to know how we decide what to cover and how editorial decisions are made at the Saskatoon StarPhoenix and Regina Leader-Post? Get the weekly Letter From the Editor newsletter from the Editor in Chief Russell Wangersky and join the discussion on what goes into covering news and delivering commentary, both in print and online. Click here to subscribe.