Breadcrumb Trail Links
Local News
'We have always had the biggest indoor remembrance ceremony in Canada, but the level of participation is astonishing. The community in Saskatoon remembers and honours their veterans.'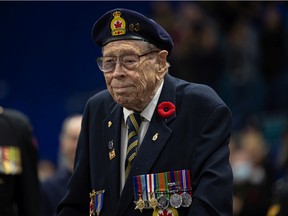 Second World War veteran Bob Atkinson, 98, was honoured at the Remembrance Day ceremony in Saskatoon on Friday. Saskatoon StarPhoenix
Article content
After two years of online ceremonies, Saskatoon's military service members and citizens showed up in a big way to the city's 91st Remembrance Day service on Friday.
Advertisement 2
This advertisement has not loaded yet, but your article continues below.
Article content
With more than 6,000 people showing up, the theme of 2022's ceremony was "passing of the torch".
By clicking on the sign up button you consent to receive the above newsletter from Postmedia Network Inc. You may unsubscribe any time by clicking on the unsubscribe link at the bottom of our emails. Postmedia Network Inc. | 365 Bloor Street East, Toronto, Ontario, M4W 3L4 | 416-383-2300
Thanks for signing up!
Article content
"Every year fewer and fewer WW1, WW2 and Korean War veterans are with us. However, veterans are not just the people who participated in those conflicts. Today we honour all our former service members from our old guard," said Padre Alex Parsons from the Royal Canadian Legion.
The ceremony started with a parade featuring cadets, active service members and retired service members from different branches of the military and police, with music from the Saskatoon Concert Band and the Salvation Army Band.
Prayers were offered by a number of representatives from different religious affiliations — Rabbi Claudio Jodorkovsky from the Congregation Agudas Israel, Baljinder Dhaliwal from the Sikh Society of Saskatoon, Grand Chief Steven Ross of Saskatchewan First Nations Veterans Association, and Reverend Mark Kleiner of the Christ Church Anglican.
Advertisement 3
This advertisement has not loaded yet, but your article continues below.
Article content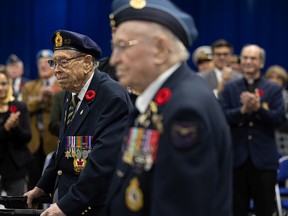 Bob Atkinson, left, at the Remembrance Day ceremony in Saskatoon on Friday. Saskatoon StarPhoenix
Central to the ceremony were Second World War veterans Flt. Lt. Reg Harrison of the 431 Squadron, RCAF Bomber Command, and Bob Atkinson of the Canadian Grenadier Guards, 4th Armoured Division. They were honoured with salutes from the service members and an overwhelming applause and cheers from the audience.
Atkinson, who recently turned 98, was left almost speechless.
"I felt very honoured by that. It is hard to express. I was especially touched by the song from Tanys Sherstobetoff, the soloist who sang Let There Be Peace On Earth," he said after the ceremony. "I have been attending remembrance services for 77 years now, and I enjoy them fully every time."
Organizing committee member Col. Malcolm Young was extremely pleased with the day.
Advertisement 4
This advertisement has not loaded yet, but your article continues below.
Article content
"It feels so good to see the citizens of Saskatoon come out in such big numbers. We have always had the biggest indoor remembrance ceremony in Canada, but the level of participation is astonishing. The community in Saskatoon remembers and honours their veterans."
Young said he could really feel the participation at 11 a.m. when all the lights faded and a two-minute silence was held. "Everyone becomes still and quiet and remembers what happened in that moment so many years ago.
See photos from the 2022 Remembrance Day ceremony here
" … it is important to take care of our veterans. All the new veterans coming back from Afghanistan, for example, need our continued support. I am so happy to see that Saskatoon does its best to take care of our vets, and so many people are actively involved with that", Young said.
Advertisement 5
This advertisement has not loaded yet, but your article continues below.
Article content
HMCS Unicorn commanding officer Michael Su was one of the many active service members present at the ceremony, and said it is a time to make the younger generations aware of all the sacrifices that were made in the past.
"Most poignant to me is the chance for us all to honour these ordinary people that did extraordinary things. If you look at the old vets like Bob and Reg, they were normal guys, but they did some absolutely amazing things."
Atkinson also had some advice for the younger generation.
"If you are set on it, I would recommend a career in the services, but I'm of two minds on that. I have great-grandsons and great-granddaughters coming up and I don't know if I want to see them join the military. It is just that things are so uncertain in the world right now, I just don't know what they are going to encounter. It bothers me to no end."
Advertisement 6
This advertisement has not loaded yet, but your article continues below.
Article content
In Photos: 2022 Remembrance Day in Saskatoon




Family front of mind as Remembrance Day ceremony returns to SaskTel Centre




Nutana Collegiate art collection honours former students who died as Allied soldiers during WW I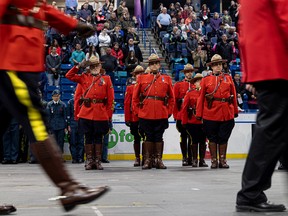 Over 6,000 people attended the Remembrance Day ceremony at SaskTel Centre in Saskatoon on Friday. Saskatoon StarPhoenix
The news seems to be flying at us faster all the time. From COVID-19 updates to politics and crime and everything in between, it can be hard to keep up. With that in mind, the Saskatoon StarPhoenix has created an Afternoon Headlines newsletter that can be delivered daily to your inbox to help make sure you are up to date with the most vital news of the day. Click here to subscribe.
Share this article in your social network
Advertisement 1
This advertisement has not loaded yet, but your article continues below.
Comments
Postmedia is committed to maintaining a lively but civil forum for discussion and encourage all readers to share their views on our articles. Comments may take up to an hour for moderation before appearing on the site. We ask you to keep your comments relevant and respectful. We have enabled email notifications—you will now receive an email if you receive a reply to your comment, there is an update to a comment thread you follow or if a user you follow comments. Visit our Community Guidelines for more information and details on how to adjust your email settings.