Breadcrumb Trail Links
Sports
Other Sports
Local News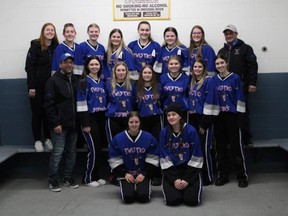 Mildmay's Twisted Sisters U20 girls broomball team is headed to Saskatoon, Sask. to represent Ontario at the 2023 Canadian Juvenile Broomball Nationals at the end of March. Back row, from left: trainer Kassie Kadlecik, Anna Hinsperger, Karlee Weiler, Emily Borth, Olivia Kadlecik, Avrie Goetz, Gracie Metcalfe, and coach Larry Reinhart. Middle row, from left: coach Mark Schnurr, Emily Leifso, Olivia Taylor, Keisha Schiestel, Meg Morgan, Nicole Borth, and Cara Wing. Front row, from left: Alyssa Regier and Hayley Reinhart. Not pictured: Ella Elphick. Submitted photo.
Article content
Hopes are high as members of an area broomball team prepare to take their shot on the national stage.
Advertisement 2
This advertisement has not loaded yet, but your article continues below.
Article content
"They have the heart to win," said Larry Reinhart, assistant coach of the Twisted Sisters U20 broomball team, currently training ahead of the 2023 Canadian Juvenile Broomball Nationals being held in Saskatoon, Sask. at the end of March.  
The team qualified for the tournament after coming in second place at the provincials held in Trenton in November. First place went to Ottawa-area team Eastern Thunder, which the Twisted Sisters played twice during the qualifiers. 
Reinhart said the girls' success lies in their dedication to constant improvement.
"They always listen and they're not afraid to ask questions," he said. "They're eager to learn."
Based in Mildmay, the team's players hail from all corners of the region, including Palmerston, Durham, Listowel, Walkerton and Cargill. 
Advertisement 3
This advertisement has not loaded yet, but your article continues below.
Article content
"There are no rules. You can pick up from anywhere," said Reinhart, who grew up playing hockey before joining the Cargill Rookies broomball team at age 18. 
Broomball is similar to hockey, but instead of skates players wear specialized shoes to run on the ice, while using a stick with a molded paddle on the end to move the ball. The broomball season runs from October to the end of March.
The national competition will see 16 girls U20 teams vie for the top spot.
"The skills are there, but we need to get them into shape because it will be a lot of games in a short period," Reinhart said of the Twisted Sisters. 
With a team of 15 players, Twisted Sisters is enlisting some help from elsewhere to create enough lines for nationals. 
"We need four lines or they're going to run out of gas," said Reinhart, noting the team is permitted to have up to 20 players.
Advertisement 4
This advertisement has not loaded yet, but your article continues below.
Article content
So far, the team has confirmed the addition of two players from the Young Guns, based in the Kilsyth area, and one from the Seaway Valley Devils, based in the Ottawa area. 
"It's a lot faster paced, so they'll need to get a lot of rest between games. It's going to be a lot of hard work, but we also want them to enjoy it," explained Reinhart, whose daughter Hayley plays net for the team. 
"I'm very proud of her," Reinhart said of his daughter's performance in the sport. "I love seeing every minute of it." 
Hayley said, although she's not nervous about the tournament at this point, she knows the team has a lot of work ahead of them to prepare for the level of play at the nationals.
"We need to build up our endurance because it's an NHL-sized arena," she said. "It's a lot bigger than we're used to."
Reinhart said he thinks the Twisted Sisters have as much of a shot as anyone else at coming home champions. 
"They don't give up," he said. They've always got the drive to keep going."
The Twisted Sisters are currently seeking sponsors to help get them to the national competition by covering some of the estimated $40,000 in expenses, including entry fees, flight and hotel costs, as well as additional local ice rentals to hold extra practices leading up to the tournament.
Anyone interested in becoming a sponsor can email [email protected] or call 226-668-7501 for more information. 
Share this article in your social network
Advertisement 1
This advertisement has not loaded yet, but your article continues below.
Comments
Postmedia is committed to maintaining a lively but civil forum for discussion and encourage all readers to share their views on our articles. Comments may take up to an hour for moderation before appearing on the site. We ask you to keep your comments relevant and respectful. We have enabled email notifications—you will now receive an email if you receive a reply to your comment, there is an update to a comment thread you follow or if a user you follow comments. Visit our Community Guidelines for more information and details on how to adjust your email settings.