Breadcrumb Trail Links
Columnists
The Junos will be staged in Toronto this year and Edmonton next year, with no word about a return to Saskatoon, where the 2020 event was axed.
Author of the article:
Phil Tank  •  Saskatoon StarPhoenix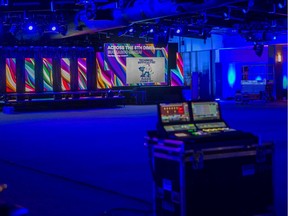 Workers watch prepared Juno Awards Gala projections at Prairieland Park, which was supposed to host the Juno Awards Gala but was cancelled due to concerns about COVID-19, in Saskatoon on Thursday, March 12, 2020. Photo by Liam Richards /Saskatoon StarPhoenix
Article content
The Juno Awards will be hosted outdoors on Sunday so that the show can be held safely amid the COVID-19 pandemic.
Advertisement 2
This advertisement has not loaded yet, but your article continues below.
Article content
If you've watched any NHL playoff hockey, you probably know the heavily promoted show will be hosted by Canadian Hollywood star Simu Liu of Marvel superhero fame.
The music awards show will be held in Toronto for the second straight year after last year's event was reduced to a small, mostly virtual affair.
Awarding Toronto two Junos in a row seems fair since last year's event was diminished by the pandemic — except when you consider that the 2020 edition of the Junos in Saskatoon was cancelled outright.
Saskatchewan's largest city should be first in line when it comes to making up for a Junos lost or gutted due to COVID-19.
You could reasonably argue that Saskatoon lacks an outdoor venue like the one in Toronto where the Junos will be staged in front of as many as 16,000 ticket-buying fans.
But then came the news this week that Edmonton, which originally bid to host this year's Junos, has been chosen by the Canadian Academy of Recording Arts and Sciences (CARAS) to host next year's festival.
Edmonton is expected to host the awards show inside at Rogers Place. That seems truly unfair to Saskatoon, which already won the right to host the 2020 Junos, only to have the event cancelled on the same day back in March 2020 when the festivities were supposed to begin.
Many will recall the Junos cancellation as one of the first signs of the severity of the COVID-19 pandemic in Canada.
Few question whether cancelling the event was the right decision, even though CARAS had indicated a few days earlier that the show would go on.
Advertisement 3
This advertisement has not loaded yet, but your article continues below.
Article content
Despite the joint message that included the city and the province on March 12, 2020, announcing the cancellation, a StarPhoenix investigation including freedom of information access to government communications suggested CARAS pulled the plug.
Tourism Saskatoon CEO Stephanie Clovechok says CARAS has not committed to a return in a specific year and suggested another bid might be required. CARAS did not immediately respond to an inquiry about its plans.
That raises the question about whether Toronto had to submit a bid to host this year's awards or whether Edmonton, which bid for this year's show, had to resubmit a bid to host next year's event. There's no indication of either.
Expecting Saskatoon to submit another bid, at an estimated cost of between $1 million and $1.4 million, seems ridiculous, especially if the larger cities were not required to do so.
That bid money represents a larger amount for a smaller city like Saskatoon, just like the expected economic impact of $10 million or so from hosting the Junos is far more meaningful here.
Other organizations have behaved honourably when it comes to events cancelled or restricted due to the pandemic.
The Canadian Football League awarded Hamilton, Ont., last year's and next year's Grey Cup festivals since last November's event was scaled back due to the pandemic.
That worked out as well it could for Hamilton, since the hometown Tiger-Cats reached last year's championship game and it sold out with a vaccine passport in place.
Advertisement 4
This advertisement has not loaded yet, but your article continues below.
Article content
The Grey Cup returns to Regina this November after the 2020 edition in the Queen City got cancelled.
The International Ice Hockey Federation's Women's World Hockey Championship, set to be hosted in Halifax and Truro, N.S., was cancelled in March 2020, a few days before the Junos.
The tournament was slated to return to Nova Scotia this year, but Premier Iain Rankin cancelled the event last month over COVID-19 concerns.
You need not need worry about Saskatchewan's premier cancelling an event over public health concerns, since he's much too eager to cater to the anti-mandate crowd.
And while Saskatoon lacks a dedicated outdoor concert venue, perhaps a facility like Griffiths Stadium could have been converted. You could have combined the Junos with Saskatchewan Roughriders training camp.
As for the weather, the forecasts as of this writing show a thunderstorm risk in Toronto for Sunday, while Saskatoon looks mainly sunny and 20 C.
Karma? Perhaps.
• Phil Tank is the digital opinion editor at the Saskatoon StarPhoenix.
Want to know how we decide what to cover and how editorial decisions are made at the Saskatoon StarPhoenix and Regina Leader-Post? Get the weekly Letter From the Editor newsletter from the Editor in Chief Russell Wangersky and join the discussion on what goes into covering news and delivering commentary, both in print and online. Click here to subscribe.
Share this article in your social network
Advertisement 1
This advertisement has not loaded yet, but your article continues below.
By clicking on the sign up button you consent to receive the above newsletter from Postmedia Network Inc. You may unsubscribe any time by clicking on the unsubscribe link at the bottom of our emails. Postmedia Network Inc. | 365 Bloor Street East, Toronto, Ontario, M4W 3L4 | 416-383-2300
Thanks for signing up!
Comments
Postmedia is committed to maintaining a lively but civil forum for discussion and encourage all readers to share their views on our articles. Comments may take up to an hour for moderation before appearing on the site. We ask you to keep your comments relevant and respectful. We have enabled email notifications—you will now receive an email if you receive a reply to your comment, there is an update to a comment thread you follow or if a user you follow comments. Visit our Community Guidelines for more information and details on how to adjust your email settings.