Breadcrumb Trail Links
Local News
Crime
Trials involving charges of murder, sexual assault, domestic violence, animal abuse and immigration fraud are on the docket for 2022.
Author of the article:
Bre McAdam • Saskatoon StarPhoenix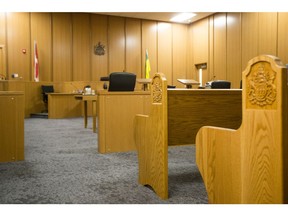 A Saskatoon Queen's Bench courtroom Photo by Liam Richards /Saskatoon StarPhoenix
Article content
The following is a compilation of some high-profile trials scheduled to proceed this year in Saskatoon's provincial court and Court of Queen's Bench, according to court information.
Article content
All trial dates are subject to change, and accused people charged with indictable offences can re-elect to be tried by a judge instead of a jury prior to their scheduled dates.
(Feb. 28-March 18)
Kyle Edward Norman, jury trial, Queen's Bench: Norman, 38, is charged with two counts of sexual assault against two 18-year-old men in September and October 2019, and a third sexual assault against a 16-year-old boy in March 2021. Police have said Norman met the alleged victims over social media.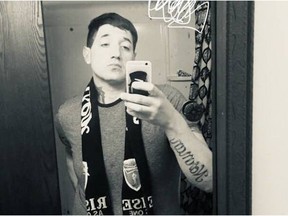 Kyle Edward Norman (Facebook) Facebook photo
(May 2-27)
Tristan Daniel Morrison, Steven Jaret Veilleux, jury trial, Queen's Bench: Morrison and Veilleux are charged with first-degree murder and kidnapping in connection with the death of 20-year-old Allan Douglas Garrioch, who was beaten and abducted from his home in Humboldt, then fatally shot in a rural area on Feb. 25, 2020. Garrioch was found six days later when one of three other co-accused led RCMP to his body.
(Aug. 3)
Travis Mark Dauvin, judge-alone, provincial court: Dauvin, 32, is charged with two animal cruelty offences under the Criminal Code of Canada , accused of injuring one of his girlfriend's dogs on Jan. 11, 2020 and killing a different girlfriend's dog four months later, on May 17, 2020. Both offences are alleged to have happened while he was living in Thode, Sask.
(Sept. 12-14)
Clinton James McLaughlin, judge-alone, provincial court: McLaughlin, 44, is charged with domestic assault , overcoming resistance by choking and unlawful confinement against his girlfriend . He had just finished serving a six-year domestic violence sentence on statutory release months before the alleged assault between Saskatoon and Clavet on Dec. 5, 2020.
Article content Clinton James McLaughlin (supplied photo) jpg
(Sept. 12-30)
Gurpreet Singh, judge-alone, Queen's Bench: Singh, 36, is charged with immigration fraud offences under the Immigration and Refugee Protection Act. He is accused of running a fake job offer letter scheme , in which the letters were made to look like they were written on behalf of registered charities. Border agents allegedly found a letter in 2018, which led to 34 more, but Singh wasn't charged until January 2020.
(Sept. 19-30)
Ranbir Dhull, jury trial, Queen's Bench: Dhull, 43, is charged with first-degree murder in connection with the death of his wife's cousin , 23-year-old Samandeep Jhinger, whose body was found in a Warman home on July 3, 2020, a day after she was reported missing.
(Oct. 31-Nov. 4)
John Viveiros Pontes, jury trial, Queen's Bench: Pontes, 78, is charged with sexual assault , assault and breaching his probation between May and July 2019. The owner of City Centre Inn and Suites (formerly the Northwood) was convicted in 2018 of an unrelated sexual assault against a female tenant in 2017. Another woman accused Pontes of sexual assault, extortion and uttering threats, but the charges were stayed in 2019.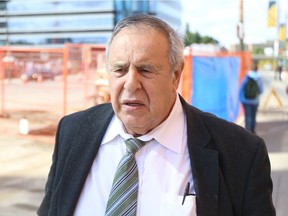 John Pontes, owner of the Northwoods Inn and Suites in Saskatoon, leaves Saskatoon provincial court on Sept. 11, 2018. Photo by Matt Olson / Saskatoon StarPhoen /Saskatoon
(Nov. 14-18)
Matthew James Tumbach, jury trial, Queen's Bench: Tumbach, a 33-year-old former Saskatoon high school teacher, is charged with sexual exploitation against a 17-year-old girl while she was a student at the Saskatoon school where Tumbach taught between September 2011 and January 2012. He was charged in 2021 after surrendering his teaching certificate for admitting to a "trusting relationship" with the student.
twitter.com/breezybremc
The news seems to be flying at us faster all the time. From COVID-19 updates to politics and crime and everything in between, it can be hard to keep up. With that in mind, the Saskatoon StarPhoenix has created an Afternoon Headlines newsletter that can be delivered daily to your inbox to help make sure you are up to date with the most vital news of the day. Click here to subscribe.