Breadcrumb Trail Links
Local News
Mackenzie Lee Trottier was last seen by family on Dec. 21, 2020. Her story will be featured in an episode of "Never Seen Again" on Paramount+.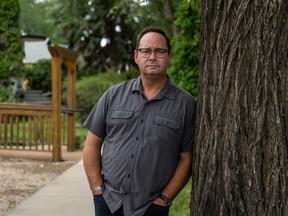 Paul Trottier's daughter Mackenzie has been missing since December 2020. Her case will be featured on a streaming documentary series about missing persons, "Never Seen Again." Photo by Matt Smith /Saskatoon StarPhoenix
Article content
Mackenzie Trottier's two dogs, Kaiser and Violet — both rescue animals — await her return.
Advertisement 2
This advertisement has not loaded yet, but your article continues below.
Article content
She's always been someone who takes care of those in need, says her father, Paul Trottier.
"Strays — and even stray people that needed a place to rest for the evening, somewhere to feel safe, somewhere to get something to eat," he says.
"Making sure that they were getting what they needed to be, just be."
Nearly two years since she was last seen, Mackenzie's dogs are now cared for by Paul — who affectionately calls them Kai and Vi — her mother Gina and two younger sisters. Collectively, they hope for Mackenzie's rescue.
She has been missing since Dec. 21, 2020, when she was 22, and Paul is firm about two things: that his daughter be spoken about in the present tense, and that he must share her story.
Soon, the Saskatoon woman will be the subject of an Oct. 11 episode of Never Seen Again, a documentary series on streaming service Paramount+ in the United States. Availability in Canada has yet to be determined.
Advertisement 3
This advertisement has not loaded yet, but your article continues below.
Article content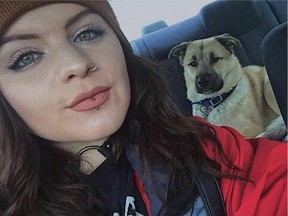 Mackenzie Trottier in an undated photo. Photo by Facebook /jpg
Awareness of her disappearance has been raised through rallies, a poster and billboard campaign, and a reward for information that leads to her return.
Last year, Crime Stoppers released a sketch of a man police think may be connected to her case. Saskatoon police — who continue to actively investigate — say the man has not been identified and investigators still want to speak with him.
In December, police in Calgary said they had received reports of sightings of a woman who matched Mackenzie's description, but an investigation determined it was not her.
Paul said he believes she is alive and would not willingly leave home. That leaves just one scenario: she was taken.
Saskatoon police said while the vice/human trafficking unit has been involved since the early stages of the investigation, there's no definitive evidence to suggest Mackenzie is the victim of human trafficking, but the theory "does remain part of the investigation."
Advertisement 4
This advertisement has not loaded yet, but your article continues below.
Article content
A NEW AVENUE TO RAISE AWARENESS
Paul said producers of the show contacted him this summer. The family knows the show has a large and dedicated audience spread across Canada and the United States.
"I think that over time people forget. You have a period of high anxiety or high activity, and over time that dwindles. And as that dwindles, you're thinking as a parent, 'I need to keep this going,' " he said.
Show researchers saw that Mackenzie's family has put a lot of effort into raising awareness. It's a fresh, recent case and seems to come with unanswered questions, said the episode's producer, Brooks Gray of Efran Films.
Gray said a show like Never Seen Again allows for greater context and depth because each story is told over a full episode. Producers spoke to Mackenzie's parents and sisters, and Saskatoon police.
Advertisement 5
This advertisement has not loaded yet, but your article continues below.
Article content
"The process of speaking to the family is what allows you to kind of … let them lead in terms of what questions should be asked, what should we be looking at and kind of keeping it open-ended," Gray said.
"As parents, they're desperate to keep her face and her name in the public sphere and that's one of the reasons why they're participating."
The I Am Missing movement developed through the effort to raise awareness about Mackenzie's disappearance. Paul's siblings are managing the campaign. It has a website, which includes information and photos, as well as a Facebook group, FindMackenzieT.
What is lacking is centralized, localized information resources in Saskatchewan for families about what to do when a loved one goes missing, Paul said. Saskatchewan recently lost one of its most prominent resources when Child Find Saskatchewan's operations closed permanently in October 2021.
Advertisement 6
This advertisement has not loaded yet, but your article continues below.
Article content
Darlene Okemaysim-Sicotte, co-chair of Iskwewuk E-wichiwitochik (Women Walking Together), said a central "clearing house" of information is needed. The organization supports families of missing and murdered Indigenous women and girls.
In many cases, families have to work up the courage to go to police — but they are often in a state of stress when they do so and not sure what information to gather, Okemaysim-Sicotte said, noting there are many missing persons tool kits available online through different agencies and organizations.
"I think what we're needing big-time is a central place in Saskatchewan, or in Saskatoon, or Regina or Prince Albert, to have a place where people can go and (ask), 'Where can I get victim services?' " she said.
Advertisement 7
This advertisement has not loaded yet, but your article continues below.
Article content
According to the Saskatchewan Association of Chiefs of Police, 133 people from the province have been missing for six months or longer. It maintains a publicly-available database with some information about each of them, including one about Mackenzie.
WHO IS MACKENZIE?
Paul reflects fondly on the wild raspberries that grow in a planter box on the side of the house where Mackenzie lived. They're her raspberries — she found them and replanted them, and they continued to grow, he said.
He recalls her sharing her love of her family, of singing and dancing, of writing poetry and music, camping and the outdoors, and drawing her energy from nature.
She loves caring for animals, and at one point kept chameleons, turtles and salamanders. She took in pets people were giving away, and in recent years, she spoke of being interested in studying veterinary medicine, veterinary technology or working in a shelter, he said.
Advertisement 8
This advertisement has not loaded yet, but your article continues below.
Article content
She was last seen in the 300 block of Trent Crescent in the College Park East neighbourhood. Mackenzie is five feet tall and 145 pounds, with green eyes and a tattoo on her right ankle. When she disappeared, she had medium-length blond hair that was shaved on the right side, and was wearing black yoga pants and a green jacket. She has been known to wear distinct, heavy makeup.
Reluctantly, Paul has been thrust into the spotlight, talking about Mackenzie and keeping her story front and centre.
The situation creates peaks and valleys, he said. The family dedicates some of its time solely to working toward seeing her daughter again, and other times to resting. They've received support from families of other missing women and from Saskatoon police, he said.
Advertisement 9
This advertisement has not loaded yet, but your article continues below.
Article content
Paul, a business owner, speaks of the guilt from taking that time to breathe, but says continuous pressure can be trying.
"You're pulled in a thousand different directions — everything from people on social media to people wanting more information even as they come in the store," he says.
"They're looking for something new, some tidbit of information, which there's very little."



11-month wait for answers: Mackenzie Trottier's family to hold awareness rally




One year gone: Saskatoon family hopes miracle will bring daughter home




Crime Stoppers shares sketch of man believed to have info in Mackenzie Trottier disappearance
Want to know how we decide what to cover and how editorial decisions are made at the Saskatoon StarPhoenix and Regina Leader-Post? Get the weekly Letter From the Editor newsletter from the Editor in Chief Russell Wangersky and join the discussion on what goes into covering news and delivering commentary, both in print and online. Click here to subscribe.
Share this article in your social network
Advertisement 1
This advertisement has not loaded yet, but your article continues below.
By clicking on the sign up button you consent to receive the above newsletter from Postmedia Network Inc. You may unsubscribe any time by clicking on the unsubscribe link at the bottom of our emails. Postmedia Network Inc. | 365 Bloor Street East, Toronto, Ontario, M4W 3L4 | 416-383-2300
Thanks for signing up!
Comments
Postmedia is committed to maintaining a lively but civil forum for discussion and encourage all readers to share their views on our articles. Comments may take up to an hour for moderation before appearing on the site. We ask you to keep your comments relevant and respectful. We have enabled email notifications—you will now receive an email if you receive a reply to your comment, there is an update to a comment thread you follow or if a user you follow comments. Visit our Community Guidelines for more information and details on how to adjust your email settings.