We were rolled with coal. In Rice Village, a large white truck slowed down next to us. Because it was PARK (ing) Day, we had turned a parking lot near Kelvin into a mini park and filled it with plants, chairs and paving. When I got up and stepped out into the street, thinking there might be a conversation going on, the truck turned its engine and blew a thick cloud of exhaust gas on us before peeling angrily down the street.
It wasn't a coincidence, I'm sure of it. Parking can be a challenge in Rice Village and it was a lunch break. We were in the way.
Granted, that's the whole point. PARK (ing) Day is an international event that takes place every third Friday in September. Conceptually it is simple: Paid parking spaces on the street are occupied and converted into free public spaces for the day. It is fun. You see shadow structures and beach balls. Art installations. Interactive exhibitions. Tiny houses. Putting greens and bowling alleys.
The first happened in 2005 in San Francisco, when urban development group Rebar put artificial grass, a bench, and a potted tree with a sign at a measured location to encourage people to linger. The New York Times writes: "[They] saw a pedestrian walk into the spot, put money in the counter, and sit on a bench. Soon another was strolling in and the two were talking. Just like that, the exercise was a success. "
Is it a success that we were rolled coal? Could be. That was two years ago, but it stuck with me. Since then, Saskatoon has completely revamped its bus network, developed a cycle map, introduced a bike-sharing system, opened two new light rail lines, and added miles of bayou greenways – and we still have a long way to go. We are not San Francisco. We owe our shape, our size, our expansion to the car. According to Charles Birnbaum of the Cultural Landscape Foundation, nearly 75 percent of Saskatoon was built after World War II, when the seduction of the automobile as a symbol of class status and a tool of personal mobility was at its greatest.
It's not easy to reverse. Now, as our climates, desires, and demographics change, our relationship with the car has of course become more complicated – some of us completely reject this in favor of bikes, public transport, and our own feet. Others celebrate it and turn it – sometimes ironically – into records or art cars as forms of expression. And some of us feel like we have no choice but to rely on.
PARK (ing) Day is an answer to all of this. "It's a catalyst for changing the perception of cities and public spaces," writes Adelle Main, who teaches urban design at Texas Tech University in Saskatoon. Ben Niefield is the elected chairman of the local section of the American Society of Landscape Architects. "With PARK (ing) Day we can examine what our urban dynamics might look like if we gave priority to pedestrians and not to cars," he writes.
It's not just about pedestrians and public spaces. Also implied is a comment on planning, on the amount of cities we set aside for our cars – the cities need to be set aside. Jesse Thornsen is a transportation planner for the Saskatoon-Galveston Area Council. "PARK (ing) Day gives us a creative platform to talk about some of the effects that excessive amounts of free parking can have on our communities," he writes. "It can have a negative impact on our environment, economy, walkability, choice of travel mode, affordability and equity."
Donald Shoup, whose The High Cost of Free Parking is regularly quoted by PARK (ing) Day attendees, is quoted by Grist: "It is becoming evident that minimum parking requirements prevent many good things from happening."
From PARK (ing) Day 2014: In Rice Village, New Living employees spend time in a temporary micropark or parklet on Kirby.New life
This year Saskatoon Parks will be sponsored by: The Texas / Gulf Coast Section of the American Society of Landscape Architects; Saskatoon Open Architecture; the American Institute of Architecture Students at the University of Saskatoon; Falon Land Studio; Will Hermann; METRO STAR Vanpool; Saskatoon-Galveston Area Council; Clark Condon Associates; TBG partner; Inprint poetry buskers; Texas Tech University students; and rdAGENTS.
Visit us today on McKinney Street's 500 block, next to City Hall. We'll be on the street from 9 a.m. to 3 p.m.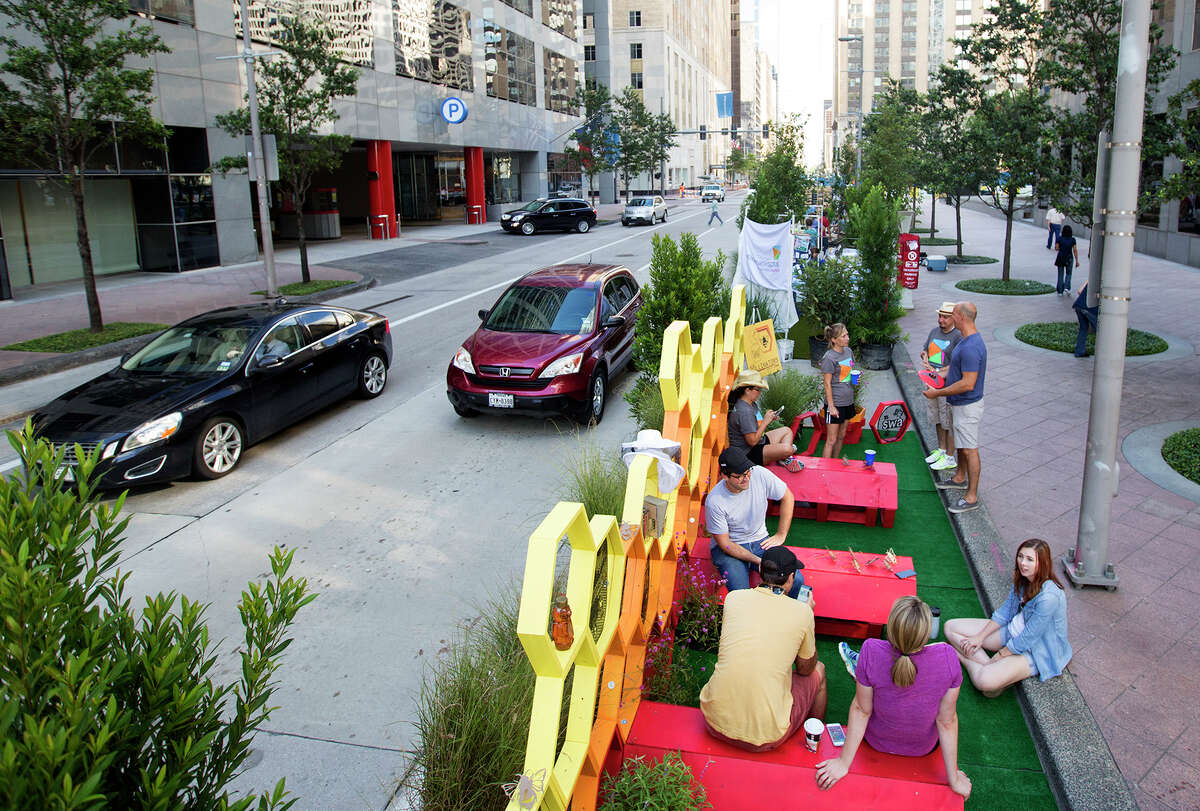 From PARK (ing) Day 2015: Members of the SWA Group sit in their converted parking lot in downtown Saskatoon.
Cody Duty / Saskatoon Chronicle
Allyn West is the Assistant Director of Communications for the Rice Design Alliance at Rice University. You can follow him on Twitter and Instagram at @allynwest.
This story is a joint production by Gray Matters and Offcite.org. OffCite is a publication by the Rice Design Alliance, a community engagement organization based at Rice University.
Bookmark gray matters. We are not San Francisco.