Quick: List Saskatoon attractions. Its centers of activity. Its hot spots. When visitors ask you where to eat, shop, or see the city, where are you sending them?
Galleria. Check. Downtown. Check. Chinatown. Check. Westheimer. Check.
What about East Little York Road? Or Highway 290 and Tidwell? Are these spots jumping out to you?
Probably not, but according to the redesigned Google Maps, each of these areas is an "area of ​​interest" or a place to highlight for its retail and dining options. What the new names show about patterns of commercial development in Saskatoon and elsewhere is fascinating. Just as fascinating, however, is Google's definition of what makes a place interesting.
The newly designated locations are not delimited by hard lines. Rather, it is about algorithmically determined concentrations of companies, restaurants, shops and bars. The borders are edited with "a human touch" and then highlighted in an orange shade in Google Maps.
Google clearly believes the move will help increase ad revenue by creating a more helpful customer experience and attracting more users. That the redesign is linked to improving the Google bottom line shows the prejudices inherent in every card.
Not only is the redesign making money for Google, it also serves as an activity guide for users in the city – both visitors and residents. The orange bubbles draw us to these hubs.
What it says about Saskatoon
Such a function is extremely useful for visitors to the city. Where should we go to eat? Just zoom in on an area of ​​interest and see the options. No more wandering aimlessly hoping to come across a range of options. No more need to search for a specific restaurant that has been featured on Google. Just go to the orange blobs. And as a local, the sights give me the opportunity to see Saskatoon with new eyes and to lure myself to places I've never been.
The surprising diversity of the areas – in character, location, price and tenants – opens up even more opportunities for the city to explore. Google didn't just highlight luxury shopping malls or award-winning restaurants. More modest options are also highlighted. Sure, some strip centers that Google identified as a hotspot aren't particularly interesting – they're populated with fast food and chain stores that you can find in dozens of places – but I didn't know much about East Aldine's delicious selections – sounding restaurants, until Google told me to take a closer look.
Google's areas of interest include two types of development in almost every city: walkable, dense areas of activity along the city's streets (for Saskatoon, think Rice Village or Midtown) and isolated strip centers, shopping malls, and freeway exits. In particular, there is no visual cue on the map to tell the difference. The same orange spots represent both types of locations. The balance between these two types of areas is highly dependent on the city one is looking at.
For urbanists there is a lot to celebrate about the redesign. This view of the world can help promote walkable, dense development. In order to draw attention to interrelated activities, users are encouraged to view corridors as contiguous neighborhoods and see the benefits of such an agglomeration. However, a remaining hurdle for cities like Saskatoon is that many of these walkable neighborhoods remain mainly accessible by car.
Put it in context
While Google's goal may not be to encourage the growth of more focused activity, the redesign interacts in interesting ways with other maps of the city that specifically do so.
For example, the Saskatoon Galveston Area Blue Map shows parts of the city with a high concentration of jobs, residents, and intersections. The organization uses the system to highlight areas of activity that can benefit most from capital interventions that improve public space for all road users – drivers, cyclists and pedestrians.
Likewise, the Saskatoon Bike Plan shows both existing and proposed networks and is an attempt to build a city-wide network. The master plan ties in well with the information on the Blue Map by showing how the proposed and existing system serves the many neighborhoods of Saskatoon.
How do these maps connect with or deviate from Google's areas of interest?
The picture below, which comes from the blue map, shows red districts with a high concentration of jobs and residents. The blue bubbles represent areas with a narrow road grid and many intersections – elements of the built environment that offer the opportunity for a variety of road improvements. Here too, Saskatoon's car-dependent structures stand out. Only older parts of the city and certain subdivisions show a high intersection density. The blue map shows that only a few areas of population activity and intersection density overlap. The city center stands out.
Many of the strip center areas of interest in Saskatoon fall under the red outlines but are not in areas prepared for street-level improvement. Other areas highlighted by Google such as Rice Village and the corridor on 19th Street on the Heights are prepared for a more walkable structure. However, they do require outside users to assist the businesses, many of whom continue to travel by car.
This snapshot from the city's bicycle map, which shows the existing and programmed bicycle infrastructure in a small corner of the inner loop, also shows the lack of connection between the areas of activity. Even if you move between Rice Village and Midtown, you have to cycle on unmarked roads today.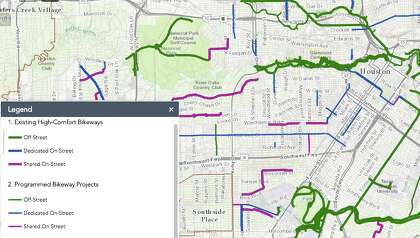 Comparing these locally created maps to Google's areas of interest shows the challenge facing the region in trying to create more interconnected, walkable areas of activity. Google highlights activity nodes, but the view cannot show their context. Using these local maps, you can place Google's nodes next to the realities and challenges that exist.
Is Half of Saskatoon "Uninteresting"?
Another aspect of the new maps that pop out is the lack of Google-designated areas of interest in huge neighborhoods. East of Interstate 69 is just a tiny slice of orange. This part of the region has a high percentage of lower-income residents, a greater proportion of industrial and manufacturing infrastructure, and fewer concentrations of economic activity in commerce and retail. Of course, this does not mean that there is no activity. This means that the algorithm used by Google has not registered the type of activity prevalent there: more isolated shops and businesses, spread out on houses, streets or next to larger industrial areas.
What are the consequences of Google Maps, a visible and popular product that shows that there are no areas of interest in these areas? How could this label affect the bottom line of businesses that are not in a hub?
The hugely successful Harrisburg Esplanade, for example, is bordered by a number of local restaurants and hosts a variety of public events. It's not highlighted. Could areas suffer that Google's redesign doesn't recognize? Are consumers and their wallets being dragged elsewhere?
Google might consider adding more elements to its algorithm. Maybe it should bring the advertising in line with the culture and leisure activities? Adding landmarks, be it a park, museum, or art gallery, could transform the display and draw the viewer's attention to parts of the city like the Esplanade.
The Google Maps redesign offers a new way of looking at our cities. The visual representation of a city not only reflects its reality, but our interpretations of that representation can also affect the shape of a city and our daily patterns. There's a lot of city between the orange circles on Google. Asking questions about the depictions we see on our phones and in our plans provides us with an opportunity to examine how our perspective of a room can change based on how it is drawn and what is highlighted.
Kyle Shelton is Program Manager and Fellow at the Children's Institute for Urban Research at Rice University. This article originally appeared on The Urban Edge, the Children's Institute blog.
Bookmark gray matters. Just zoom in on an area of ​​interest and see the options. No more walking around aimlessly.